Metempsicosis *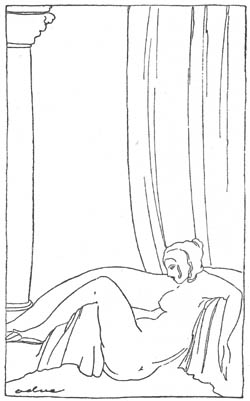 by Rubén Darío
Yo fui un soldado que durmió en el lecho
de Cleopatra la reina. Su blancura
y su mirada astral y omnipotente.
Eso fue todo.
¡Oh mirada! ¡oh blancura! y oh, aquel lecho
en que estaba radiante la blancura!
¡Oh, la rosa marmórea omnipotente!
Eso fue todo.
Y crujió su espinazo por mi brazo;
y yo, liberto, hice olvidar a Antonio.
(¡Oh el lecho y la mirada y la blancura!)
Eso fue todo.
Yo, Rufo Galo, fui soldado y sangre
tuve de Galia, y la imperial becerra
me dio un minuto audaz de su capricho.
Eso fue todo.
¿Por qué en aquel espasmo las tenazas
de mis dedos de bronce no apretaron
el cuello de la blanca reina en brama?
Eso fue todo.
Yo fui llevado a Egipto. La cadena
tuve al pescuezo. Fui comido un día
por los perros. Mi nombre, Rufo Galo.
  Eso fue todo.
---
I was a soldier who slept in the bed
of Cleopatra the queen. Her paleness
and her astral and omnipotent gaze.
That was all.

Oh gaze! Oh paleness! And oh that bed
in which the paleness was radiant!
Oh, the omnipotent marble rose!
That was all.

And her spine groaned under my arm;
and I, a freed slave, made her forget Anthony.
(Oh the bed and the glance and the paleness!)
That was all.

I, Rufo Galo, was a soldier and blood
I had of Gaul, and the imperial calf
gave me an audacious minute of her caprice.
That was all.

Why in that spasm did the pincers
of my bronze fingers not squeeze
the neck of the pale queen in heat?
That was all.

I was taken to Egypt. Around my neck
I had a chain. I was eaten one day
by the dogs. My name, Rufo Galo.
That was all.
---
* Metempsicosis: The supposed transmigration at death of the soul into a new body.
Translation: Frank Thomas Smith