Garden City, New York
Waldorf school's life lessons
A classic liberal arts institution honors those who influenced students for decades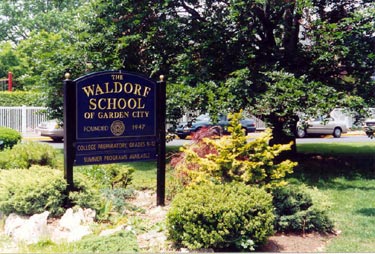 May 27, 2007


By Rhoda Amon
[email protected]

Lee Lecraw, 92, who taught at the Waldorf School in Garden City for 28 years, was asked about one of her pupils. "He was a gem, a pearl," she recalled. "I had that boy in my class for eight years and he never caused any trouble."

That boy, Kenneth Chenault, is now chairman and chief executive officer of American Express, a power on Wall Street and one of the first black CEOs of a Fortune 500 company. Student and teacher were among 400 alumni, faculty, staff and parents reunited recently at a celebration of Waldorf's 60th anniversary.

Chenault, 55, cited Lecraw as his "most influential teacher" in a recent Teachers Count ad campaign. "I learned values that guided me all my life," he said.

Growing up in Hempstead, Chenault was a "lifer" who stayed from kindergarten through high school graduation, Class of '69.

Waldorf schools' beginnings

The school was founded in 1947, one of the first Waldorf schools established in America - part of an international educational movement that began in 1919 in post-World War I Germany. Distressed by the senselessness of war, Austrian professor Rudolf Steiner determined that people needed to be educated differently from the start. He opened the first school for the children of factory workers in the Waldorf-Astoria cigarette company in Stuttgart - hence, the name Waldorf.

The movement has spread to every continent. There are 300 Waldorf schools in the United States, each independent and different but all following the basic Steiner philosophy of maximizing the potential capabilities of each child at each stage of his or her development.

"It's a classic liberal arts program," said Susan Braun, administrator of the Garden City Waldorf, which started as a demonstration lab where neighboring Adelphi College could train teachers. "We integrate the arts into all aspects of education," Braun said.

There's lots of handwork. Boys and girls both learn to knit and crochet ("mathematical activities"). They learn woodworking, gardening, all the visual arts, how to operate a sewing machine. Each class spends a week each year on the school-owned 250-acre Glen Brook Farm in Marlborough, N.H., where they learn how things grow and are nurtured. "We want the children to grow intellectual and creative," Braun said.

Woodworking and crocheting

Lecraw arrived in 1948, bringing her eldest child, who was enrolled in pre-K. Donald Lacraw, now 52, brought his mother to the reunion at the Milleridge Cottage in Jericho.

"We were gardening, woodworking and crocheting," he recalled, while children in other schools were just doing reading, writing and arithmetic. After graduating from Waldorf, he went on to Stanford University as an undergraduate and got an MBA and doctorate from Harvard University. "So they must have gotten a lot of academic stuff into us," he said.

Lee Lecraw, who retired in 1979 and now lives near the Glen Brook farm, was given the Distinguished Faculty Award at the anniversary party.

Waldorf officials had a harder time tracking down the recipient of the "Spirit of Waldorf Award." Bob Dale, who retired in 1991 after 24 years as school custodian, was somewhere in Tennessee. After months of silence, he called last Christmas with holiday wishes. Architect Charles B. Rose, recipient of the outstanding alumni award, offered to pay Dale's first-class air fare and accommodations at the Garden City Hotel.

"I usually don't fool around with functions like this," said Dale, 74, who spends his days fishing for bass and catfish. Still, he said, it was good to see the boys and girls for the first time since he "nursed them through high school. Now the littlest ones are the biggest ones," he said. His daughter, Glenda, and granddaughter, Lea, 9, still live in Roosevelt.

Not all the honorees were alumni of the Waldorf School of Garden City.

Leonore Russell attended a Waldorf boarding school in New Hampshire. She and her husband, George Russell, former chairman of the Garden City Waldorf's board of trustees, teach at Adelphi - she in art education, he in biology.

Diversity at Waldorf

Leonore Russell also serves on the board of an artsy Waldorf in Boulder, Colo. "Each Waldorf school reflects the community it serves," she said.

The Garden City Waldorf reflects Long Island's diversity. One-third of its 360 students are minorities, Braun said.

"We give a lot of financial assistance because we want diversity at all levels," said Braun, whose son, Christopher Smalley, 18, will be among 25 students graduating June 15. Although a high school year costs $17,000 (pre-K runs $8,300), a third of the students get financial aid. "We've always been open to the community," she said.

William and Dolores Williams, who lived in Freeport, sent their three children there from pre-K to graduation, and a grandson is now in the third grade. Scott Williams, class of '85, the school's former director of development, accepted a posthumous award for his parents, who had headed the parents' association. "They would be so proud," he said.

Another success story was Kristin Eisert Miller, who describes herself as a Waldorf "lifer" in a school near Stuttgart, where her grandparents were Steiner disciples. After completing teacher training in Germany, she came to the United States to teach in the Garden City Waldorf and met philanthropist John Miller, whose twin sons were in her fourth-grade class. They married in 2005.

Although she's retired from teaching, Kristin Miller serves on the board and was chairwoman of the anniversary event. "Waldorf has a special place in our hearts," she said.
---
Copyright 2007 Newsday Inc.