Selected Sonnets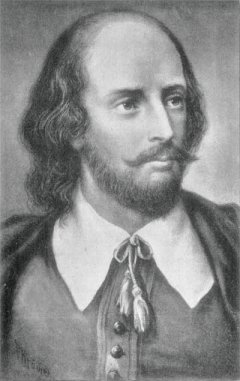 William Shakespeare
                              II
When forty winters shall besiege thy brow,
And dig deep trenches in thy beauty's field,
Thy youth's proud livery so gazed on now,
Will be a totter'd weed of small worth held:
Then being asked, where all thy beauty lies,
Where all the treasure of thy lusty days;
To say, within thine own deep sunken eyes,
Were an all-eating shame, and thriftless praise.
How much more praise deserv'd thy beauty's use,
If thou couldst answer 'This fair child of mine
Shall sum my count, and make my old excuse,'
Proving his beauty by succession thine!
This were to be new made when thou art old,
And see thy blood warm when thou feel'st it cold.
                                 X
For shame deny that thou bear'st love to any,
Who for thy self art so unprovident.
Grant, if thou wilt, thou art beloved of many,
But that thou none lov'st is most evident:
For thou art so possessed with murderous hate,
That 'gainst thy self thou stick'st not to conspire,
Seeking that beauteous roof to ruinate
Which to repair should be thy chief desire.
O! change thy thought, that I may change my mind:
Shall hate be fairer lodged than gentle love?
Be, as thy presence is, gracious and kind,
Or to thyself at least kind-hearted prove:
Make thee another self for love of me,
That beauty still may live in thine or thee.
                           XII
When I do count the clock that tells the time,
And see the brave day sunk in hideous night;
When I behold the violet past prime,
And sable curls, all silvered o'er with white;
When lofty trees I see barren of leaves,
Which erst from heat did canopy the herd,
And summer's green all girded up in sheaves,
Borne on the bier with white and bristly beard,
Then of thy beauty do I question make,
That thou among the wastes of time must go,
Since sweets and beauties do themselves forsake
And die as fast as they see others grow;
And nothing 'gainst Time's scythe can make defence
Save breed, to brave him when he takes thee hence.
                           XVIII
Shall I compare thee to a summer's day?
Thou art more lovely and more temperate:
Rough winds do shake the darling buds of May,
And summer's lease hath all too short a date:
Sometime too hot the eye of heaven shines,
And often is his gold complexion dimmed,
And every fair from fair sometime declines,
By chance, or nature's changing course untrimmed:
But thy eternal summer shall not fade,
Nor lose possession of that fair thou ow'st,
Nor shall death brag thou wander'st in his shade,
When in eternal lines to time thou grow'st,
So long as men can breathe, or eyes can see,
So long lives this, and this gives life to thee.
                              XX
A woman's face with nature's own hand painted,
Hast thou, the master mistress of my passion;
A woman's gentle heart, but not acquainted
With shifting change, as is false women's fashion:
An eye more bright than theirs, less false in rolling,
Gilding the object whereupon it gazeth;
A man in hue all hues in his controlling,
Which steals men's eyes and women's souls amazeth.
And for a woman wert thou first created;
Till Nature, as she wrought thee, fell a-doting,
And by addition me of thee defeated,
By adding one thing to my purpose nothing.
But since she prick'd thee out for women's pleasure,
Mine be thy love and thy love's use their treasure.
                              XXV
Let those who are in favour with their stars
Of public honour and proud titles boast,
Whilst I, whom fortune of such triumph bars
Unlook'd for joy in that I honour most.
Great princes' favourites their fair leaves spread
But as the marigold at the sun's eye,
And in themselves their pride lies buried,
For at a frown they in their glory die.
The painful warrior famoused for fight,
After a thousand victories once foiled,
Is from the book of honour razed quite,
And all the rest forgot for which he toiled:
Then happy I, that love and am beloved,
Where I may not remove nor be removed.  
                         XXVII
Weary with toil, I haste me to my bed,
The dear repose for limbs with travel tired;
But then begins a journey in my head
To work my mind, when body's work's expired:
For then my thoughts--from far where I abide--
Intend a zealous pilgrimage to thee,
And keep my drooping eyelids open wide,
Looking on darkness which the blind do see:
Save that my soul's imaginary sight
Presents thy shadow to my sightless view,
Which, like a jewel hung in ghastly night,
Makes black night beauteous, and her old face new.
Lo! thus, by day my limbs, by night my mind,
For thee, and for myself, no quiet find.
                             XXIX
When in disgrace with fortune and men's eyes
I all alone beweep my outcast state,
And trouble deaf heaven with my bootless cries,
And look upon myself, and curse my fate,
Wishing me like to one more rich in hope,
Featured like him, like him with friends possessed,
Desiring this man's art, and that man's scope,
With what I most enjoy contented least;
Yet in these thoughts my self almost despising,
Haply I think on thee, and then my state,
Like to the lark at break of day arising
From sullen earth, sings hymns at heaven's gate;
For thy sweet love remembered such wealth brings
That then I scorn to change my state with kings.
                              XXX
My mistress' eyes are nothing like the sun;
Coral is far more red, than her lips red:
If snow be white, why then her breasts are dun;
If hairs be wires, black wires grow on her head.
I have seen roses damasked, red and white,
But no such roses see I in her cheeks;
And in some perfumes is there more delight
Than in the breath that from my mistress reeks.
I love to hear her speak, yet well I know
That music hath a far more pleasing sound:
I grant I never saw a goddess go,
My mistress, when she walks, treads on the ground:
And yet by heaven, I think my love as rare,
As any she belied with false compare.
                         CXLI
n faith I do not love thee with mine eyes,
For they in thee a thousand errors note;
But 'tis my heart that loves what they despise,
Who, in despite of view, is pleased to dote.
Nor are mine ears with thy tongue's tune delighted;
Nor tender feeling, to base touches prone,
Nor taste, nor smell, desire to be invited
To any sensual feast with thee alone:
But my five wits nor my five senses can
Dissuade one foolish heart from serving thee,
Who leaves unswayed the likeness of a man,
Thy proud heart's slave and vassal wretch to be:
Only my plague thus far I count my gain,
That she that makes me sin awards me pain.
                          CXXXV
Whoever hath her wish, thou hast thy Will,
And Will to boot, and Will in over-plus;
More than enough am I that vexed thee still,
To thy sweet will making addition thus.
Wilt thou, whose will is large and spacious,
Not once vouchsafe to hide my will in thine?
Shall will in others seem right gracious,
And in my will no fair acceptance shine?
The sea, all water, yet receives rain still,
And in abundance addeth to his store;
So thou, being rich in Will, add to thy Will
One will of mine, to make thy large will more.
Let no unkind, no fair beseechers kill;
Think all but one, and me in that one Will.
Note:
The meanings of will which recur throughout the poem are as follows.
1. Wish, desire; thing desired.
2. Carnal desire, lust, sexual longing.
3. The auxiliary verb denoting a future tense, as in 'it will be so, thou wilt vouchsafe'.
4. Willfulness, obstinacy, determination.
5. A slang term for the male sex organ. As in - this night he fleshes his will in the spoil of her honour. AW.IV.iii.14.
6. A slang term for the female sex organ.
7. The name 'William'.