E-Review of fiction, education, science, current events, essays, book reviews, poetry and Anthroposophy
Number 19, September-October 2002
---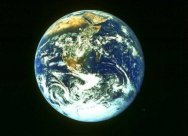 <![if !supportEmptyParas]><![endif]>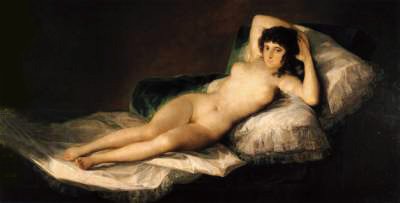 La maja desnuda - Francisco de Goya
Welcome to the third anniversary issue of Southern Cross Review. What started as a bilingual (English-Spanish) ezine dedicated to fiction, soon developed in other directions. Although fiction is still an integral part of the publication, and will remain so, we branched off into all the categories listed in the masthead. The bilingual part was dropped because it was simply too much work for a staff consisting of two. We hope you agree with these choices.
In order to give you a chance to agree or disagree with anything that appears in SCR, or just to share your opinions on all the topics we cover, an email discussion list has been set up. Click here or on the button near the bottom of the Table of Contests if you would like to join. Just send the blank email that appears on your screen. The discussion is lively.
In the "Editor's Page" the cultural sector of a Tripartite Society is briefly examined. In "Letters" are the comments of some readers about articles that appeared in the previous issue. We would like to encourage this. If you would like to contribute to "Letters", send an email to fts@SouthernCrossReview. Of course we reserve the right to publish - or not.
A special "Letter from the WTC" by an eye-witness is given a separate link. Ute Craemer comments in a moving fairy-tale fashion on what social conditions mean to one child. A new section, "Mythology" follows, and I have the impression that it will continue in future issues. Steve Talbott contributes a short essay on baby-walkers as a prelude to high tech, and in the same education section is an essay from 1919 by Rudolf Steiner on Waldorf education. The Essay contributions are by our old friend Ralph Waldo Emerson on Plato, John Yungblut on Quakerism's realtion to Carl Jung, and Gaither Stewart on Inspiration.
In "Science" is a most interesting readable article by Craig Holdrege about genetically modified food. After reading it, I finally understand what it's all about.
Private eye Darrell Stark continues to track down the bad guys or dolls in our serialized fiction section, and short stories are offered by Ptim Callan - a new twist on an old fairy tale, Gaither Stewart - in Rome, and Barbara Lefcowitz - in Venice. A syncronicity? As icing on the cake, Bobby Matherne offers another of his admirable Rudolf Steiner book reviews.
Two new ebooks have been added to the Ebook Libary: A new book by Ute Craemer, Rich in Spirit, about life in the favelas of Brazil. It's a kind of continuation of "Favela Chidren", also available from the Library; and Henry David Thoreau's Walden or, Life in the Woods. Have you visited the Ebook Libary lately? It's worth the trip.
Three SCR authors have recently published print books. Don Cruse: "Evolution and the New Gnosis". Click to read Don's My Thesis - it's what the book is about. Available from Amazon and B&N. Mark S. Cohen - his book "The Fractal Murders" got it's start in our Ebook Library. It may now be ordered from Amazon or B&N or from www.mudygap.com. Bobbi McCutcheon: a SciFi book titled "Father Mars, Mother Earth, available from www.volitar.com/merchandise.htm.
An article about the WTC disaster by Bob Cohen will appear in the October issue of Penthouse.
We are still accepting both essays and short fiction entries for our contest. Prizes include publication in Southern Cross Review and cash! See the contest rules for complete details.
The Southern Cross Review is located under the Southern Cross constellation in the Traslasierra Valley, Province of Córdoba, Argentina. Visitors always welcome. Just follow the sign that reads: La Cruz del Sur.
Frank Thomas Smith, editor
Jo Ann Schwartz, associate editor
Table of Contents
---
Social Issues
Hope for a Human Life
Ute Craemer
---
Mythology
American Indian
Creation Myths
---
Education
From Baby Walker
to High Tech
Steve Talbott
Introduction to
Waldorf Education
Rudolf Steiner
---
Essays
Plato; or, The Philosopher
Ralph Waldo Emerson
Quakerism and
Jungian Psychology
John R. Yungblut
Reflections on Inspiration
Gaither Stewart
---
Science
Should Genetically Modified Foods be Labeled?
Craig Holdrege
---
Serialized Fiction
Who Killed Jack Robinson?
(formerly "The Baseball Murders")
Frank Thomas Smith
---
Short Fiction
MEDIC!
Frank Thomas Smith
Ptim Callan
Piazza Navona
Gaither Stewart
The Man from Venice
Barbara Lefcowitz
---
Poetry
If All my Words were Beautiful
Elizabeth Simons
---
Book Review
How Can Mankind
Find the Christ Again?
Rudolf Steiner
reviewed by
Bobby Matherne
---

to SCR (It's free)
Back Issues

SCR Links

Authors' Guidelines

SCR to your friends!